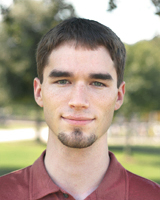 Will has been at UCF since 2004, when he began as an undergraduate transfer student in Creative Writing. He also completed a Master's in Rhetoric & Composition and a Doctorate in Texts & Technology at UCF, during which time he began working at the Faculty Center.
In his time at the Faculty Center, Will has served in a variety of roles, from Research Assistant to Instructional Specialist. He has enjoyed supporting faculty in their endeavors to improve student learning using new technology (or using existing technology in new ways), and he's always interested to help faculty implement their ideas, whether in face-to-face class or in Webcourses@UCF, UCF's implementation of Instructure's Canvas LMS.
Will is happy to help faculty in their ventures with UCF-administered software, including Adobe Creative Cloud, Microsoft Office and OneDrive, Qualtrics XM, and Zoom Meetings.
His research interests include Classical texts and the space where the digital overlaps the archaic: he has worked on several grant-funded projects dedicated to digitizing 18th-century texts—including novels, poems, personal correspondence, and dictionaries—and making them searchable and viewable online.
View Will's CV.