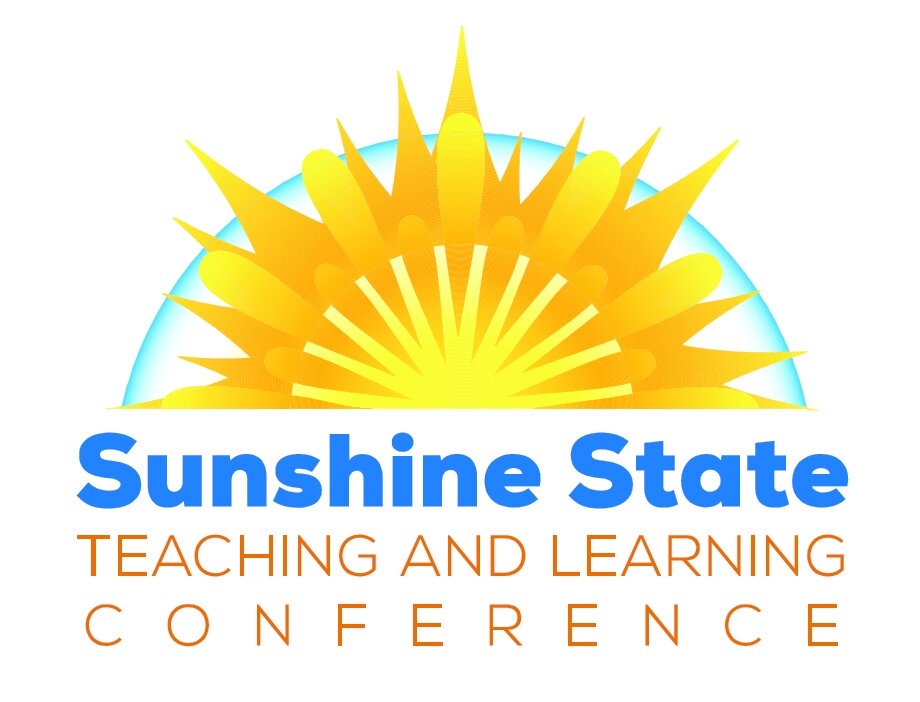 The Sunshine State Teaching and Learning Conference (SSTLC) is a public-facing academic conference hosted by the Faculty Center at UCF. It has been welcoming scholars from Florida and beyond since 2017 to our teaching-focused, interdisciplinary event. The conference brings together higher-education scholars, practitioners, and policymakers to share research, to discuss critical issues, and to promote opportunities for collaboration. The three-day event features a variety of session formats designed to encourage interaction and engagement. Sessions raise awareness of emerging challenges, offer overviews of best practices, highlight research findings, and promote strategies for improving student and faculty success.
2024 Conference Details
Dates: The 2024 Conference will be held from noon on March 18 (Monday) to 1pm on March 20 (Wednesday)
Location: Orlando, FL – the UCF Rosen College of Hospitality Management. The UCF Rosen College of Hospitality Management is Located at 9907 Universal Boulevard, Orlando, Florida 32819. It is conveniently situated near the hospitality and tourism corridor, International Drive, the Orange County Convention Center, Universal Orlando Resort, Walt Disney World, and hundreds of hotels and attractions.
Meals: Conference registration includes buffet breakfasts on March 19 and March 20, and buffet lunches on all three days (March 18, 19, and 20).
Registration: Presenters and early bird registration (before March 5) will be $300. Late registration will be $350. Note: every presenter who plans to attend the conference in person must register, including those presenting as part of a group.
Agenda: Click here to download the Agenda at a Glance.
Call for Papers
Participants from all sectors of higher education are encouraged to submit proposals for presentations, workshops, and posters related to contemporary challenges in college teaching. Topics may include:
scholarship of teaching and learning (SoTL)
active-learning strategies
technologies to support student learning
artificial intelligence, Generative AI and AI tools (Ex: ChatGPT, MidJourney, Murf.ai, etc.)
big data in higher education
engaging students in online environments
high-impact learning experiences
ensuring accessibility for all students
designing and assessing learning spaces
student success / transfer student success
reflection and mindfulness
teaching in politically and socially complicated moments
teaching in Florida and local legislative mandates
exploring the role/s of faculty in promoting and assessing student success
new frontiers in teaching and learning
future of higher education
Note: because this is primarily a sharing conference, priority will be given to proposals that have clear ideas for take-aways that participants can use in their own teaching.
Group proposals are allowed.
The event features two presentation formats:
25-minute application/sharing sessions will include short presentations and conversations on programming and class activities. These may include sharing teaching practices without research components.
Poster sessions will feature visual presentations on both research and programming topics.
Submit a proposal: https://ucf.qualtrics.com/jfe/form/SV_9S1OIl6WJA4TzPE
The deadline to submit a proposal is 11:59 p.m. on January 19, 2024. Acceptance notices will be distributed on a rolling basis but at latest by January 26, 2024. Late submissions may also be accepted if there is still space.
Conference Hotels
Our preferred hotel partners for the conference are Towneplace Suites (virtual tour) and Hampton Inn. They are located a few miles from the hotel near Universal Blvd. and International Drive (I-Drive).

Towneplace Suites ($159/night)
5 miles from Rosen College of Hospitality (14 mins) Location: 5433 Altamira Drive. Book your hotel room here.
Oversized guest room studio with 1 King or 2 Queen Bed
Fully equipped kitchen
Sleeper sofa
Parking $15 per night
Complimentary daily breakfast
Lobby lounge (based upon availability/ seasonal)
Outdoor pool
Fitness Center
Business Center
Sundries Market
Coin-Operated Laundry Facilities
Hampton Inn Orlando International Drive/Convention Center ($199/night)

2.1 miles from Rosen College of Hospitality (6mins) Location: 8900 Universal Boulevard. Book your hotel room here.
Free hot breakfast
Free Wi-Fi
Complimentary Parking
Non-smoking rooms
Outdoor pool
Fitness center
Pet-friendly rooms
Business center
Additional Hotel Options:
The Rosen Shingle Creek Hotel is a five-minute walk from the conference venue at the UCF Rosen College of Hospitality Management. Location: 9939 Universal Blvd. We do not have a group rate with Rosen Shingle Creek, but booking directly with them is an option if you'd like to walk to the conference.

Homewood Suites
2.3 miles from Rosen College of Hospitality (7mins) Location: 8745 International Drive
Transportation from the airport to the hotels: There are no direct shuttles from the airport (MCO), which is 17 miles away. Non-peak rideshare options may be as low as $32, and there are numerous car rental options at the airport.
Archive
2023 – May 15-17. Holiday Inn–Disney Springs Area. 109 Participants. Agenda.
2021 – Jan. 29. Online. 117 participants. Agenda.
2020 – Jan 29-31. The Shores Resort, Daytona Beach Shores. 137 participants. Agenda.
2019 – Jan 30-Feb 1. The Shores Resort, Daytona Beach Shores. 185 participants. Agenda.
2018 – Jan 31-Feb 2. Sirata Resort, St. Petersburg. 171 participants. Agenda
2017 – Feb. 15-17. Sirata Resort, St. Petersburg. 184 participants. Agenda.