Faculty Focus is the Faculty Center's semi-annual publication of our own faculty members' teaching practices, reflections, ideas, and discussions. Previous issues are archived at the bottom of the page. Read the latest issue here: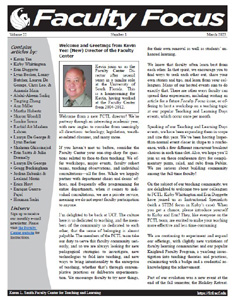 Volume 22, Issue #1: March 2023
---
Submission Guidelines
Purpose
The publication will document curricular innovation and will recognize teaching excellence for the primary purpose of enhancing instruction at UCF while encouraging creative and interdisciplinary efforts to develop new knowledge.
Call for Submissions
Do you have a faculty experience to share? We welcome article submissions by UCF faculty members. See the guidelines below for length specifications.
Audience
The primary audience members are your peers, classroom instructors at UCF who desire to increase student success and to foster scholarly community.
Article Content
The focus of the submission should be on your pedagogy. Please keep the length between 500 and 1,000 words. The following structure may give you ideas for arranging your essay, but do not label section headers. We prefer the narrative style of a single essay written with a tone similar to a blog.
Context: Briefly describe the need or problem that was addressed.
Innovation: Identify and discuss your changes; for example, a new classroom method, a new tool or activity, a new use of technology to address the problem, etc.
Implementation: What you did and how you did it? What resources/contacts you required and how you found them? What difficulties or surprise successes you experienced?
Assessment: How did you evaluate your innovation? How did you measure learning outcomes?
Conclusion: Your reflections and any new goals arising from your experience.
Media
Send email attachments to fctl@ucf.edu.
Formats
Copy: MS Word document, Times New Roman font, 12 point pitch.
Paragraphs: all single spaced, no indents, single line-space between paragraphs.
Photos/Illustrations: please include a photo of yourself (headshot) and use TIF (300 dpi) or JPEG (with least amount of compression). We can scan a photo for you if you bring it to us, or we can take the photo ourselves.
Deadlines
Deadlines vary by semester. Typically we target one publication per each fall and spring semester and ask for submissions by the end of the month prior to expected publication. However, we welcome submissions at any time of year.