How to facilitate discussion of discipline-relevant controversial issues in class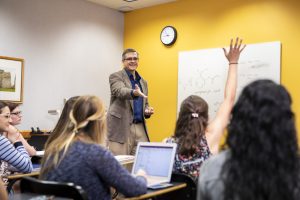 One of the primary purposes of a university is to foster among students thoughtful discussion about a range of sometimes conflicting ideas. This enables students not only to develop the ability to evaluate weigh evidence and arguments from a variety of perspectives, but it can inculcate in them the civic virtues of respecting and engaging with those who hold different viewpoints than their own.
In our polarized society, this purpose has become more difficult to accomplish in recent years. But the good news is that with care and preparation, it can still be done. We argue the benefits are worth the preparation time. This page provides foundational guidance and resources about promoting engagement with multiple perspectives about controversial topics in our classes. Contents include:
A quick introduction to facilitating classroom dialogue over controversial issues
Internet-Based Resources for Facilitating Discussion about Societally Controversial Issues
Videos, essays, books, and academic articles for further reading/viewing
Pedagogical ideas from UCF faculty
FAQs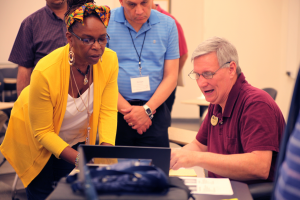 A Quick Introduction to Facilitating Civil Classroom Dialogue Over Controversial Issues
Thinking about ways to facilitate constructive dialogue in our classes can feel overwhelming if you haven't done it before. By way of introduction, here are some basic points to consider before, during, and after such discussions/debates/or assignments. Note that although these guidelines are primarily designed for synchronous classes, most can readily be adapted to asynchronous classes. More detailed information and ideas are available in the websites section below. (This section is adapted from Indiana University at Bloomington's Center for Innovative Teaching and Learning.)
Preparation
Think ahead about possible sources of student views about the topic. Just being aware of deeper origins of student opinions about issues in your course may help you approach difficult topics effectively.
Put your objectives for the activity up front and out in the open. Be clear in your communication with students about why this discussion/debate/activity/assignment is important and what you hope they will gain from it.
Provide pre-discussion assignments. Preliminary assignments can help students do logical thinking in advance, before emotions potentially get aroused in sensitive discussions.
Prepare students with models for civil discussion. That could be models from your discipline, or models from previous student assignments. Admit up front that the discussion/debate/activity/assignment may be difficult, but explain why the benefits make it worth the effort.
Establish discussion guidelines. Consider letting students help develop guidelines for class discussions. Examples could include things like the following: listen respectfully, criticize ideas not people, avoid inflammatory language, don't assume you understand others' motivation without asking, and so on. (See information below about Invitational Rhetoric and the OpenMind Platform)
Consider starting with less controversial or emotionally charged topics first. This gives students a chance to practice their skills on low-stakes discussions / debates / activities / assignments rather than just jumping headlong into a heated issue.
During Class
Provide a framework to help get things started. Students will often flounder if you don't give them specific guidance about class discussions/debates/dialogues. Prepare questions in advance to get the conversation started.
Actively manage the discussion. As the instructor, students will look to you for help if the discussion flounders or things go awry. Be ready to remind them of the stated goals of the discussion/debate/activity/assignment and of agreed upon discussion guidelines.
Confront inappropriate language. If a student uses patently offensive language (i.e. racist, sexist, etc.) letting it go without intervention can seem to students like you are tacitly endorsing those views. And that is likely to lower student trust in you as classroom authority. At the same time, it may be important to make clear to students that simply expressing an opinion that some might disagree with or even find offensive is not, in itself, inappropriate language.
Introduce meta-cognition. Be prepared to help students step back and consider why challenges to discussion/debate have arisen. You may even admit your own discomfort, and model how you are working past it. A short reflective writing break can sometimes diffuse tension and help students refocus.
Don't hesitate to defer a conversation if need be. If the discussion / debate / activity / assignment gets too heated or off topic, you may want to defer it for another class period. Be certain to explain the purpose of the deferral and give students resources or an assignment to help them prepare to discuss the topic more meaningfully later. This is especially relevant if the topic arose spontaneously.
Be slow to share your own views. Faculty hold the position of power in the classroom. If you share your own views about a current controversial issue, that could silence students who hold different opinions from yours. If you do share your own views, be explicit that you are not imposing your views on students.
Follow-up
Synthesize the discussion. Leave some time at the end for debriefing, especially as it relates to course goals and disciplinary knowledge. That is, give students the opportunity to process the experience.
Ask students to connect the activity to conversation guidelines from earlier in the term. Did the discussion/activity highlight any gaps in the guidelines? Were there ways the existing guidelines need to be better enforced in the future?
Provide students with resources as needed. Depending on the topic, you may want to remind students of campus resources like:
Internet-Based Resources for Facilitating Discussion about Societally Controversial Issues
Heterodox Academy Tools and Resources
Heterodox Academy is a nonpartisan organization committed to enhancing the quality of research and education by promoting open inquiry, viewpoint diversity, and constructive disagreement in institutions of higher learning.
Under "Tools and Resources" the site includes a range of readings and pedagogical tools. It is also a great source for educating yourself about viewpoint diversity in the university environment. Here are some examples that intrigued us:
The website also hosts the annual "Campus Expression Survey" which measures the extent to which students feel comfortable or reluctant discussing various topics on their campuses.
Taking Sides Collection (McGraw-Hill)
The Taking Sides Collection on McGraw-Hill Create includes ready-to-use current controversial issues in a debate-style format. Introductory material and example pro and con perspectives are included for each issue. Topic areas include economics, environment, psychology, education, communication, business, and many more.
In rare instances, the editors' own opinion about the topic seems to creep into the introductory write-up. For such cases, a little adaptation may be necessary, but faculty will still find the material useful as a springboard for designing class activities.
Reacting to the Past Role-Playing Games (RTTP)
Role Playing might not be the most obvious approach to helping students to discuss controversial issues, but RTTP games provide students with a persona within which they can safely and thoroughly examine an issue. With nearly 30 published titles for simulations that take multiple class sessions to mini-games that can be accomplished in one or two with some preparation. Dozens of games under development are also available on the site.
The Faculty Center has offered faculty learning communities about RTTP in previous years, and we've got lots of information about this specific pedagogy. See also Mark Carnes' original and influential book on the subject, Minds on Fire.
The OpenMind Platform is an evidence-based interactive set of modules that purposes to equip people with the mindset and skillset to communicate across differences. The landing page of the website includes demos of the modules.
Start Talking: A handbook for engaging in difficult dialogues in higher education
Developed by Alaska Pacific University and the University of Alaska through funding from the Ford Foundation, this book provides a thorough instruction not only to pedagogical tools, but to everything from interpersonal handling of difficult students and the history of academic freedom. It's been around for awhile (2008), but the thoroughness of the treatment makes it worth a read.
The mission of Braver Angels is to "bring Americans together to bridge the partisan divide and strengthen our democratic republic." The organization focuses on holding events, but also posts a series of podcasts that demonstrate productive discussions between opposing viewpoints.
The Foundation for Individual Rights in Education (FIRE) Syllabus Database
The mission of FIRE is "to defend and sustain the individual rights of students and faculty members at America's colleges and universities."
For purposes of civil pedagogy, FIRE's faculty syllabus database can be useful for finding examples of language that promotes free dialogue in class. (Note: You'll have to join FIRE's faculty network to access the syllabi, but you can always unsubscribe after getting the information you need.)
The Ground News Browser Extension and The Flip Side
Have your students try out Ground News Bias Checker. Whenever they read a news article, the browser extension will show them who else is covering the same news story and compare how other sources from all across the political spectrum are reporting it.
The Flip Side offers a similar approach but in much abbreviated form. Their tag line: "See both sides of important issues: In 5 minutes a day."
Sundry Additional Resources
For additional perspectives and general information, check out among others:
Videos, Essays, Books, and Academic Articles for Further Reading/Viewing
(Links included where available)
The below are a great start for further reading on your own, or possible assignment to classes. More ideas are available at the libraries at the OpenMind Platform, or contact the Faculty Center for other thoughts.
TED Talks
Other Videos
Essays
Books
Appiah, K. A. (2006). Cosmopolitanism: Ethics in a world of strangers. W. W. Norton.
Brooks, A. C. (2019). Love your enemies: How decent people can save America from the culture of contempt. Broadside.
Frankl, V. (1946). Man's search for meaning. Beacon.
Goodwin, D. K. (2006). Team of rivals: The political genius of Abraham Lincoln. Simon & Schuster.
Manji, I. (2020). Don't label me: How to do diversity without inflaming the culture wars. St. Martin's Griffin.
Tayris, C., & Aronson, E. (2007). Mistakes were made (but not by me): Why we justify foolish beliefs, bad decisions, and hurtful acts. (3d ed.) Mariner Books.
Academic Articles
Crockett, M. J. (2017). Moral outrage in the digital age. Nature Human Behavior, 1, 769-771.
Haidt, J. (2001). The emotional dog and its rational tail: A social intuitionist approach to moral judgment. Psychological Review, 108(4), 814-834.
Mason, L. (2018). Ideologues without issues: The polarizing consequences of ideological identities. Public Opinion Quarterly, 82, (1), 866-887.
Mercier, H., & Sperber, D. (2011). Why do humans reason? Arguments for an argumentative theory. Behavioral and Brain Sciences, 34, 57-111.
Porter, T., & Schumann, K. Intellectual humility and openness to the opposing view. Self and Identity, 17(2).
Content by Ann Miller, Nicholson School of Communication and Media