Introduction
Bloom's taxonomy was developed to provide a common language for teachers to discuss and exchange learning and assessment methods. Specific learning outcomes can be derived from the taxonomy, though it is most commonly used to assess learning on a variety of cognitive levels. The table below defines each cognitive level from higher- to lower-order thinking.
The goal of an educator's using Bloom's taxonomy is to encourage higher-order thought in their students by building up from lower-level cognitive skills. Behavioral and cognitive learning outcomes are given to highlight how Bloom's taxonomy can be incorporated into larger-scale educational goals or guidelines. The key phrases can be used (e.g., Example Assessments) to prompt for these skills during the assessment process.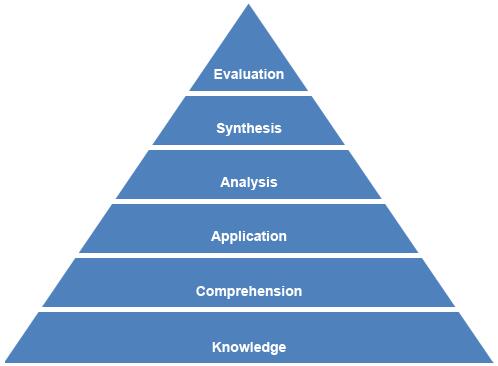 Learning Outcomes
Learning outcomes are what you want your students to learn, either as a result of a specific lesson or on the grander, more general scale of the entire course. Learning outcomes target knowledge, skills, or attitudes for change. Bloom's taxonomy specifically targets these by seeking to increase knowledge (cognitive domain), develop skills (psychomotor domain), or develop emotional aptitude or balance (affective domain). Learning outcomes might be identified by someone outside the teacher, such as state-wide or departmental standards. The taxonomy provides a basis for developing sub-goals and assessment methodology to meet these goals. It is important to note that learning outcomes are goals, and are not the activities performed to achieve those goals. Outcomes can be categorized into broad, global outcomes that may take many years to achieve and provide direction for education, educational goals that guide curriculum development over the weeks or months it takes to complete a specific course, and instructional goals that narrowly focus on the daily activities, experiences, and exercises used in a specific lesson plan.
Objective Builder Tool
For applications specific to a course, the Center for Distributed Learning has developed an objective builder tool to help craft the language for measurable learning outcomes.
Applications of the Taxonomy
Taxonomies are developed to provide a framework for organizing a continuum along an underlying structure. For example, languages may be classified as Romantic, Germanic, etc. based on their underlying grammatical structure and origin. Bloom's taxonomy primarily provides instructors with a focus for developing their course learning outcomes. There are a number of reasons why a teacher would want to use Bloom's taxonomy. Initially, it can be used to increase one's understanding of the educational process. Teachers can see and understand complex cognitive development and how lower-level skills build into higher-order thinking (e.g., recalling facts and comprehending previous problems allows a student to apply their experience to similar problems). Using this understanding facilitates the prioritizing of material and can steer the organization of lessons to maximize class time. For example, lower-level skills (e.g., memorizing factual knowledge) can be developed before higher-level skills are introduced (e.g., analysis of relationships). Current educators frequently face a confusing array of standards and curriculum requirements. Bloom's taxonomy offers a guiding framework for breaking these criteria down into accessible chunks which can be used to direct day-to-day lesson plans and can be easily compared to their own goals for the class. Just as different levels require different instructional delivery methods, they also require different assessment methods. Bloom's taxonomy can be used as a checklist to ensure that all levels of a domain have been assessed and align assessment methods with the appropriate lessons and methodologies. In this way, the taxonomy also makes it easier for you to maintain consistency between assessment methods, content, and instructional materials and identify weak areas.
Update to Bloom's Taxonomy (2001)
Originally, Bloom's taxonomy was one-dimensional with an exclusive focus on the knowledge domain. The current updated version developed by Anderson and Krathwohl (2001) reorganizes, and highlights the interactions between, two dimensions: cognitive processes and knowledge content. Anderson and Krathwohl identify two reasons for updating the original handbook. They emphasize a refocusing of educational outcomes back to the original handbook, which was ahead of its time and can still offer assistance to modern educators and to incorporate new findings in psychology and education into the framework. In their revision, cognitive processes are presented as verbs and the knowledge content are presented as nouns. Along with exchanging the levels of Evaluation and Synthesis (which they rename to Creation), Anderson and Krathwohl redefine the knowledge dimension to include four types:
Factual Knowledge: Basic elements of a discipline that a student must know and be able to work with to solve problems including basic terminology and specific details and elements.
Conceptual Knowledge: Interrelationships between basic factual knowledge that demonstrate how elements work together, for example, classifications and categories, principles and generalizations, and theories, models, and structures.
Procedural Knowledge: How something is done including the methods of inquiry, skills, algorithms, techniques, and methods needed to investigate, apply, or analyze information.
Metacognitive Knowledge: Awareness and knowledge of one's own cognition including strategies for learning, contextual and conditional knowledge about cognitive tasks, and self-knowledge.
References:
Bloom, B. S. (1969). Taxonomy of educational objectives: The classification of educational goals : Handbook I, Cognitive domain. New York: McKay.
Anderson, L. W., Krathwohl, D. R., & Bloom, B. S. (2001). A taxonomy for learning, teaching, and assessing: A revision of Bloom's taxonomy of educational objectives. New York: Longman.