Assignments are a major part of pedagogy. Designing assignments can therefore be one of the most influential elements of classroom teaching. Thoughtful assignment design can support student learning by helping students practice meaningful tasks that carry on into their careers or across the curriculum.
The graphic below illustrates how assessment can provide a continuous process of planning, measuring, analyzing results, and using the results to make informed decisions that lead to improvements. Because learning is a process that is driven by the products it produces at each stage, it is important to think about how assignments are designed and assessed so that they can support student learning.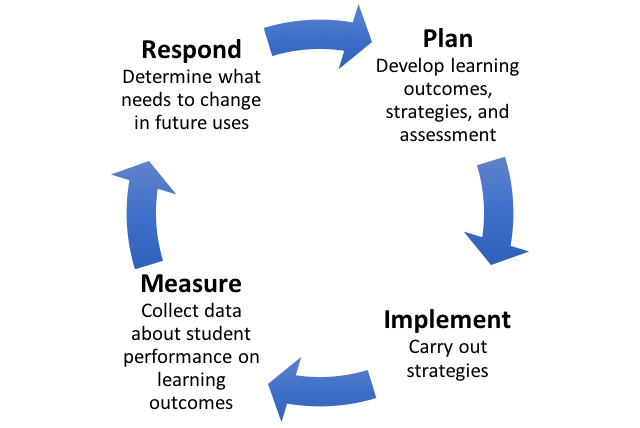 Below are several videos describing a range of assessment techniques:
Transparency in Assignments
Transparent assignments promote students' conscious understanding of how they learn. Research from the Transparency in Teaching and Learning Project has shown that when students understand the task, its purpose, and the criteria for evaluating their work, they are more motivated. That doesn't mean we don't give students challenging work, rather, that we help them understand the struggles we design for them.
Our adaptation of Palmer's transparent assignment template is a great tool for helping faculty think through how to make the learning process clear to students.
Click on the links below for exemplary assignments from a range of disciplines at UCF.
More Information About Assessment
For information about UCF's Academic Learning Compacts (ALCs), see Operational Excellence and Assessment Support.
Read more about providing students with effective feedback here: https://lsa.umich.edu/sweetland/instructors/teaching-resources/giving-feedback-on-student-writing.html