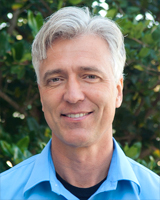 Eric has been with the Faculty Center since 2001 after five years working in student support as a reading specialist and writing tutor and before that, fifteen years in the private sector in construction and energy. His commitment to service and his curiosity for "driving questions" helps him relate to faculty members across the disciplines and explains his finally arriving at a sustainable career path—where better to engage interesting conversations than a faculty hub within a large university?
Eric's approach to supporting faculty is to meet people where they are and to ask questions about their situational factors and goals, moving from solving immediate problems to imagining relevant innovations to teaching practice.  He reads "with the grain" of most educational theories and methods, and he prefers to blend lessons from cognitivism, behaviorism, and constructivism, seeing these categories as more often cooperative than  antagonistic. He has a reputation for patient openness and welcomes inquiries from basic technology and student motivation to course or curriculum challenges to musings about the ends of education.
Click here to view a summary of his CV.